PRIYANTO, Ariski and FIRMANSYAH, Firmansyah (2016) ANALISIS INTERVENSI BANK INDONESIA TERHADAP KURS INDONESIA 2008.1 – 2015.12: PENDEKATAN ARIMA GARCH. Undergraduate thesis, Fakultas Ekonomika dan Bisnis.
PDF – Published Version
1157Kb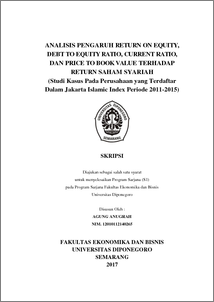 Preview
Abstract
Since Indonesia applies the regime of the free floating exchange rate and free foreign exchange system, the occurrence is a coincidence with the rising of integrated economic activities as in international relation. In other words, economy of Indonesia has got more integrated with economy of the world. The open-small economic characteristic of economy of Indonesia implies a vulnerability regarding external financial shock as either crisis of trading partner or strengthening currency of its trading partner. The possible effect might come as pressure on exchange rate Rp/USD, even worse when it comes to fluctuating pressure without proper anticipation, volatility might distort market. As the matter of fact, Bank Indonesia has issued policy of sterilized intervention. This research aims to analyze the effect of intervention on the volatility of the exchange rate Rp/USD. Furthermore, this research try to explain Bank Indonesia's sterilization policies in order to stabilize internal condition due to correction and external equilibrium, descriptively. We are using Generalized Autoregeressive Conditional Heterokedasticity (GARCH) model to estimate the volatility of the exchange rate Rp/USD. We are also use GARCH model to explain the effect of Bank Indonesia's interventions on the volatility of the exchange rate Rp/USD between January 2008 and December 2015. We are using changes of exchange rate, and reserve requirements as proxies of Bank Indonesia's interventions. We also extend the analysis to find the effects of net export and difference interest rate to volatility of the exchange rate. The paper finds, Bank Indonesia's interventions have small impact on volatility of the exchange rate systematically. Although sterilization still can help to keep inflation stability. Monetary contraction policies, such as increasing interest rate can effectively keep exchange rate stable. On the other hand, net exports performances are not enough to keep exchange rate stability.
Note: Karena artikel-artikel ini panjang maka di bagi beberapa bagian/ halaman. Silahkan untuk melihat artikel lanjutan-nya klik halaman 2 3 4 atau next di atas ini.